by Katie Mulligan, animator and graphic designer
I think Clonmel's best selling point is the activities on the River Suir. The River Suir doesn't just go through Clonmel--it connects towns along its course through County Tipperary and County Waterford.
Clonmel is quite a big town and the Blueway is a very nice escape from the built up town. The river is surrounded by trees and fields. It's like another world. Walking along the river is a great way to unwind and relax the mind. The Blueway stretches from Clonmel through Kilsheelan and all the way to Carrick-on-Suir.🛶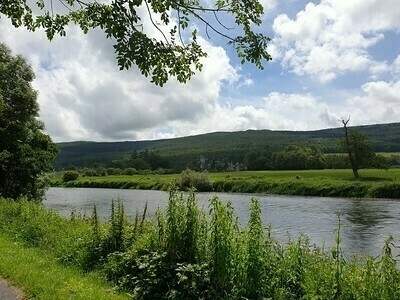 ---
Comment from Bernie Goldbach follows.
The image is Gottfried Helwein's Castle. You can see it along the Suir Blueway. Wikipedia says, "The large estate belonged to the de la Poers, an Anglo-Norman family whose affiliation with the Roman Catholic Church led to their eventual expulsion from the Protestant English establishment. Count Edmund de la Poer, 18th Lord le Poer and Curraghmore, a Knight of Malta and Private Chamberlain to Pope Pius X, commenced the building of the present castle in 1863 to replace an earlier house which itself replaced an earlier house."